Archiv des Monats
Mai 2022
Sektionsleitung APA Eastern Division 2023 in Montreal
Unser Mitglied Sebastian Luft weist uns darauf hin, dass Interessenten, die eine Sektion für das APA Eastern Division Meeting organisieren möchten, das vom bis zum 4. bis zum 7. Januar 2023 in Montreal, Kanada, stattfinden wird, ihre Anfrage bis zum 15. Juni 2022 einreichen können. Für weitere Informationen kontaktieren Sie bitte Sebastian Luft.
The Eastern Division of the APA regularly allows (and encourages) other philosophical societies and APA committees to host sessions in conjunction with the Eastern Division annual meeting. The next Eastern Division meeting will be held in person in Montreal, QC, Canada, January 4–7, 2023.
Festveranstaltung "Das Gute, das Schöne und die Kultur"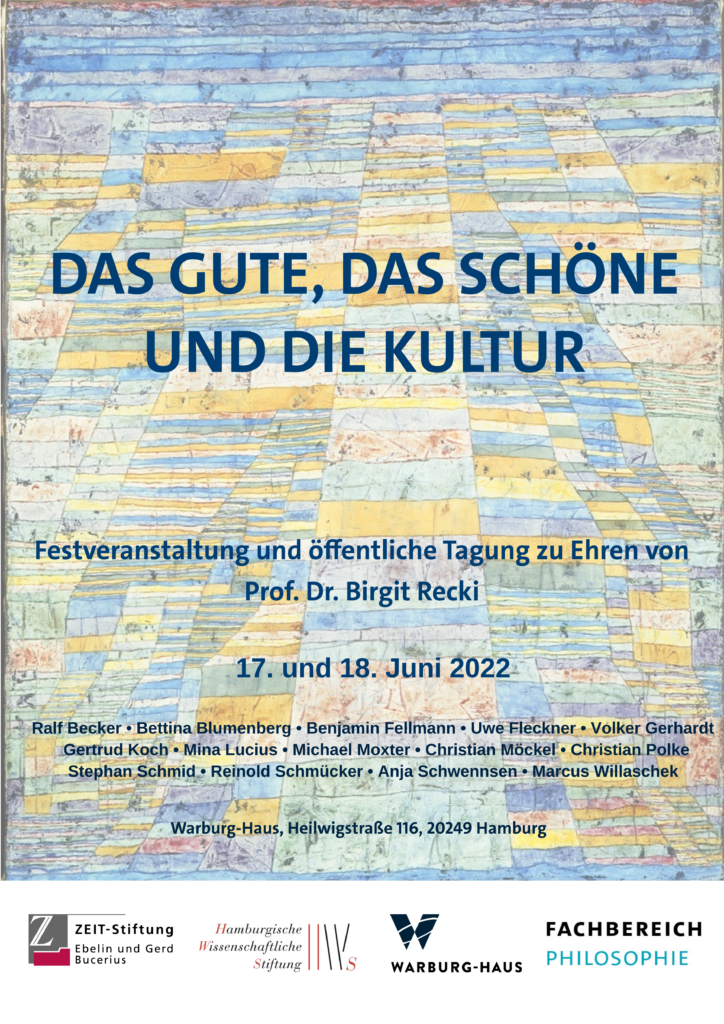 Weitere Informationen zur Veranstaltung entnehmen Sie bitte dem Programmflyer.
Call for Papers "Studia Kantiana"
Bitte beachten Sie den folgenden Call for Papers, auf den uns unser Mitglied Lucas A. Duarte Amaral aufmerksam macht:
The International journal of philosophy of Kant's Brazilian society – Studia Kantiana – invites the academic community to submit articles, critical notes, reviews, translations, and discussions for the special dossier "Kant and neo-Kantian schools: celebration of 100 years of Ernst Cassirer's Philosophy of Symbolic Forms", which will be edited by Rafael Garcia (UNICAMP), Adriano R. Mergulhão (IFSP), Ivânio L. de Azevedo Jr. (UFCA/UFC) and Lucas A. D. Amaral (PUC-SP – PNPD/CAPES).
Submissions can be made through the website of the journal Studia Kantiana: http://www.sociedadekant.org/studiakantiana/index.php/sk/index, until November 30, 2022.
Die vollständigen Informationen zum Call for Papers finden Sie hier.