Tagung "To the symbols themselves! The role of symbols in logic and mathematics for phenomenology", 8-9 Juni 2023, Köln
In this conference we aim to provide an overview of Husserl's reflection on the nature of mathematical symbols and their role in the constitution of mathematical objectivity. The problem will be addressed first of all historically, by putting Husserlian phenomenology within a broader context of reflection on the role of symbols in mathematics. Moreover, more systematical issues will be discussed, concerning the role played by the phenomenological method in the clarification of the relationship between evidence and symbols and in the functioning of symbols in mathematics in general.
Detaillierte Informationen zu der Tagung finden Sie hier.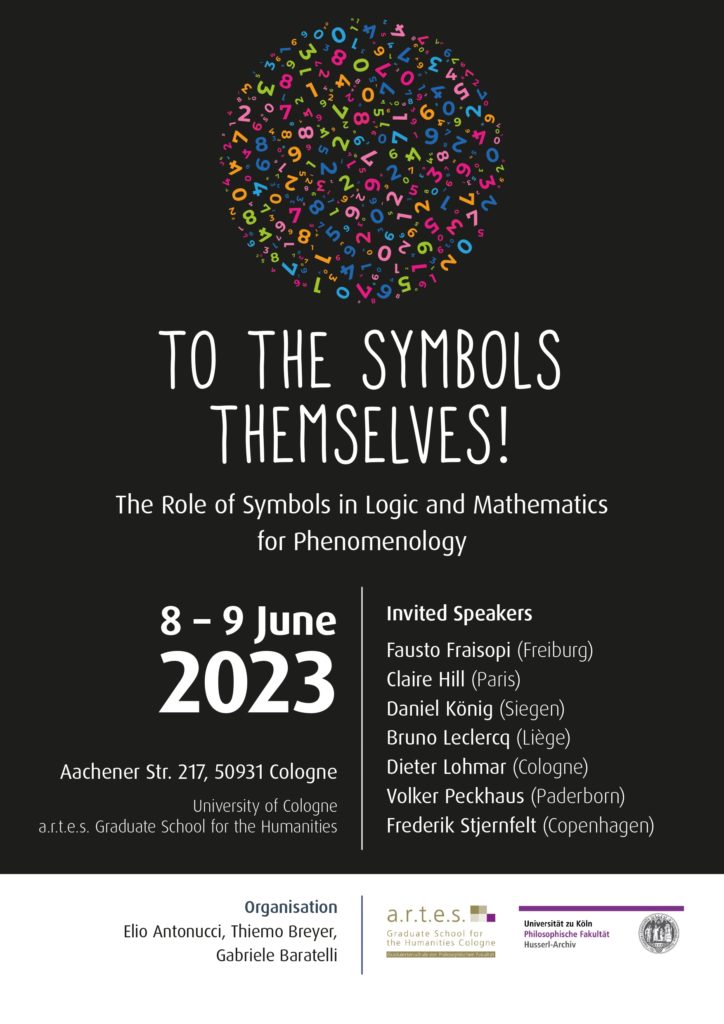 Call for Papers "Form und Funktion der Philosophie Ernst Cassirers – Workshop zum 100-jährigen Jubiläum der Philosophie der symbolischen Formen."
Vor 100 Jahren erschien der erste Band der Philosophie der symbolischen Formen Ernst Cassirers, ein philosophisches Programm, zu dessen Ausarbeitung Cassirer seinen eigenen Angaben zufolge unter anderem durch einen Besuch der Warburg-Bibliothek inspiriert worden ist: Die Vielfalt des Materials, seine konzeptionelle An- und ständige Neuordnung sowie das sich durchziehende Grundmotiv der "Spannung von Freiheit und Notwendigkeit" (Nachruf ECW 17, 371) stehen in direkter intellektueller Verwandtschaft zu Cassirers eigenem philosophischem Ansatz. 100 Jahre später lässt sich die Frage stellen, was uns die Philosophie der symbolischen Formen heute noch zu sagen hat – weniger mit Blick auf das konkrete Material, das sie bewältigt, und die spezifischen Einzelfragen und -probleme, die sie diskutiert, als vielmehr hinsichtlich der Frage nach der Form und Funktion des Philosophierens selbst, die sich in ihrer Systematik verkörpert. Was ist es eigentlich, das uns an dieser Art des Philosophierens heute noch fasziniert und wie lässt sich der Geist der Philosophie der symbolischen Formen für die Gegenwart fruchtbar machen?
Um dieses Potential auszuloten, möchten wir mit anderen Nachwuchswissenschaftler*innen (Doktorand*innen und Postdocs) zu einem Workshop im Warburg-Haus am 07. und 08.12.2023 zusammenkommen. Bei diesem sollen weniger die gängigen Fragen der Zuordnung Cassirers zu einer Tradition (z.B. zum Neukantianismus) oder Fragen der Verortung in Diskursen seiner Zeit (z.B. der philosophischen Anthropologie) diskutiert werden, sondern der symbolischen Bedeutung des Ortes entsprechend die Frage im Zentrum stehen, ob und inwiefern die Philosophie der symbolischen Formen eine fruchtbare Heuristik und/oder Methode für ein zeitgenössisches Philosophieren bereitstellt.
Organisation: Daniel Koenig, Heike Koenig, Tim Schmidt und Tim-Florian Steinbach
Bitte richten Sie Ihre Bewerbung bis zum 16.07.2023 an: Cassirer2023@online.de
Die vollständigen Informationen zum Call for Papers finden Sie hier.
Call for Papers "A Hundred Years of The Philosophy of Symbolic Forms"
To celebrate the centenary of the publication of Ernst Cassirer's seminal work, volume one of The Philosophy of Symbolic Forms, Language, a conference is to be held at the Norwegian Research Center in Paris (Le Centre universitaire de Norvège à Paris) on October 16th and 17th 2023. We are reaching out to all the researchers engaged in Cassirer studies in general and specifically in his philosophy of language to contribute at the conference.
To join the conference, please, send in an abstract to either Ingmar Meland (ingmar.meland@ntnu.no) or Esther Oluffa Pedersen (estherop@ruc.dk) no later than 7. August 2023.
Die vollständigen Informationen zum Call for Papers finden Sie hier.
International Conference "Kant and Cassirer. Legacy – Interpretation – Frontiers", 20.-21. September 2022, Mainz
Vom 20. bis zum 21. September findet die internationale Konferenz "Kant and Cassirer. Legacy – Interpretation – Frontiers" im Erbacher Hof in Mainz statt.
Das Programm zur Veranstaltung finden Sie hier.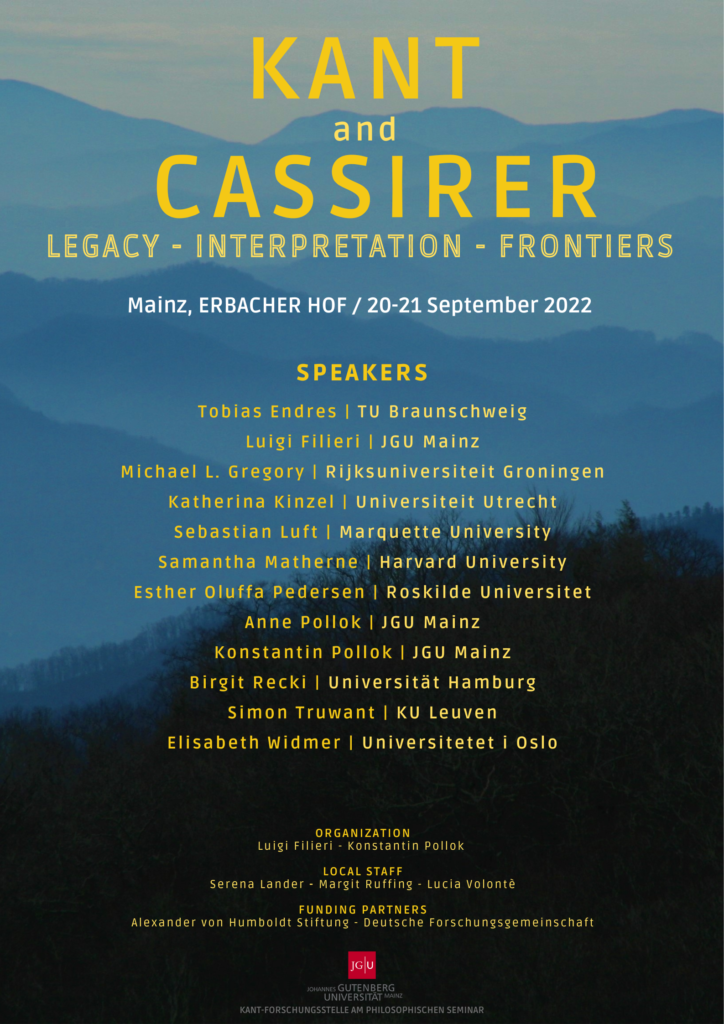 Tagung "Die theoretische Philosophie Ernst Cassirers", 19.-21. September 2022, Siegen
Im Rahmen ihres DFG-Projekts Ernst Cassirers Philosophie der Mathematik – Eine Kulturphilosophie der Mathematik am Beginn des 20. Jahrhunderts veranstaltet die Siegener AG Philosophie und Geschichte der Mathematik eine Tagung zum Thema
Die theoretische Philosophie Ernst Cassirers – Perspektiven aus Mathematik- und Kulturphilosophie.
Ziel der Tagung ist es, zwei aktuelle Forschungsstränge zu Cassirers Philosophie zusammenzubringen, die normalerweise zu wenig voneinander bemerken: einen mathematik- und einen kulturphilosophischen. Dies soll entlang zentraler Begriffskonstellationen geschehen, die jeweils von beiden Perspektiven aus beleuchtet werden.
Weitere Informationen finden Sie hier.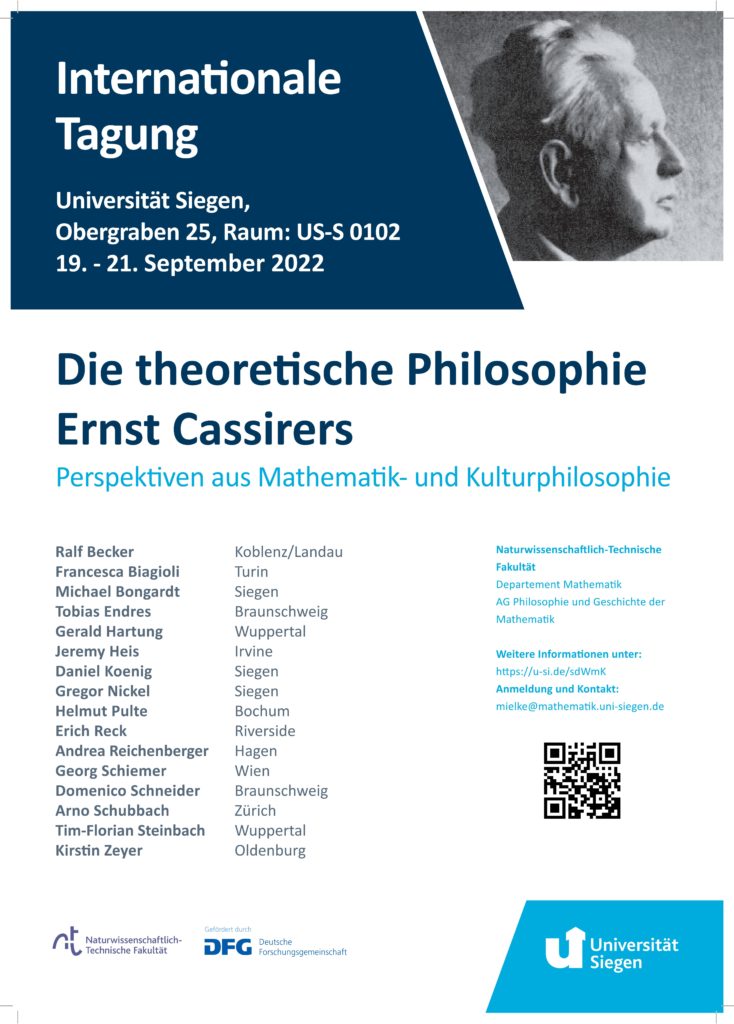 Sektion, APA Pacific Division Meeting, 05.-08.04.2023, San Francisco
Unser Mitglied Sebastian Luft weist uns darauf hin, dass Interessenten, die eine Sektion im Rahmen des APA Pacific Division Meetings organisieren möchten, das vom 5. bis zum 8. April 2023 in San Francisco stattfinden wird, ihre Anfrage bis zum 14. Oktober 2022 einreichen können. Bitte wenden Sie sich bei Interesse und für weitere Informationen an Herrn Luft.
"I write on behalf of the Executive Committee of the APA Pacific Division to invite your affiliated group to participate in the program of our next annual meeting, which will take place at the Westin St. Francis, in San Francisco, California, from April 5th to April 8th, 2023. […] The deadline for submitting a session request is October 14. Requests are honored on a first-come, first-served basis only when all information is complete. […]
Affiliated Group sessions may be scheduled for the following times:
W/Th/Sat: 6-8, 6-9, 8-10,
F: 7-9, 7-10
Your request must include the following for each chair, speaker, and commentator on your program:
name
affiliation (and state/province or country of affiliation)
email
paper title (where appropriate) in Title Case
The deadline for your program is October 14."